Ongoing, this is my journal. Thoughts & feelings, hopes & personal growth. Who am I? An ardently quirky, reflective, sentimental sophomore exploring my boundaries. Passionate, principled, and progressive. I deeply love my friends and family.
Wednesday, April 20, 2005
I have been horribly remiss in updating my journal here to include my amazing time in China, a wonderful Spring break in Bolivia, and my plans for the future. I have no idea when, if ever, I will have the time and resolve to continue here as I did for so long. Few come here anymore, it was always more about me than others anyway, and I just don't have it in me. What spurred me to come now is the fact that somebody I'd like to contact through Yahoo Personals I cannot. My information is:
Profile ID: personals-1103928566-878863
Maybe somebody will be smart/care enough to search for that on the internet. High tail it back to this website, and email me at Steven97531@hotmail.com. I'm not holding my breath. But I will have my chance one day at love. Won't I?
PS: I have plans on at least updating the broken links, and putting this webpage to rest, in the near future, i.e. this summer of 2006. This journal became a home away from home for my thoughts and dreams. My hopes and prayers. My opinions and beliefs. My world seems to have shifted too much to maintain this space, and my perspective and future prospects no longer in line with the original intention of this place. I wanted people to understand me, I wanted to better understand myself, I wanted to reach out to those who constantly put me down. All that is largely past now. Now, having graduated from American University, on an international path back to China, and with a whole lot more world to explore, and growing to do in the process, I can only say: it has been a wild, wonderful, and winding ride. God bless.
Saturday, September 25, 2004
Hello again! I'm been alive and well here in Beijing China for three weeks now.
This marks the longest gap in writing since I iniated regular postings back in November of 2002. I've had good reason for my absense though. I've never done so many different, exhilarating things in so short a time span. From visiting the Great Wall, the old and new Summer Palaces, and the Forbidden City, to bargaining at the Silk Market and shopping at Beida's own classy supermarket Wu Mei, I've had a wonderful - non-stop series of adventures, with barely a minute to catch my breath. *MORE TO COME*
I know I promised more to come. And it will. New Years Resolution(s) and of course - the recap from the best four months of my life. But until I return to DC - this picture must do.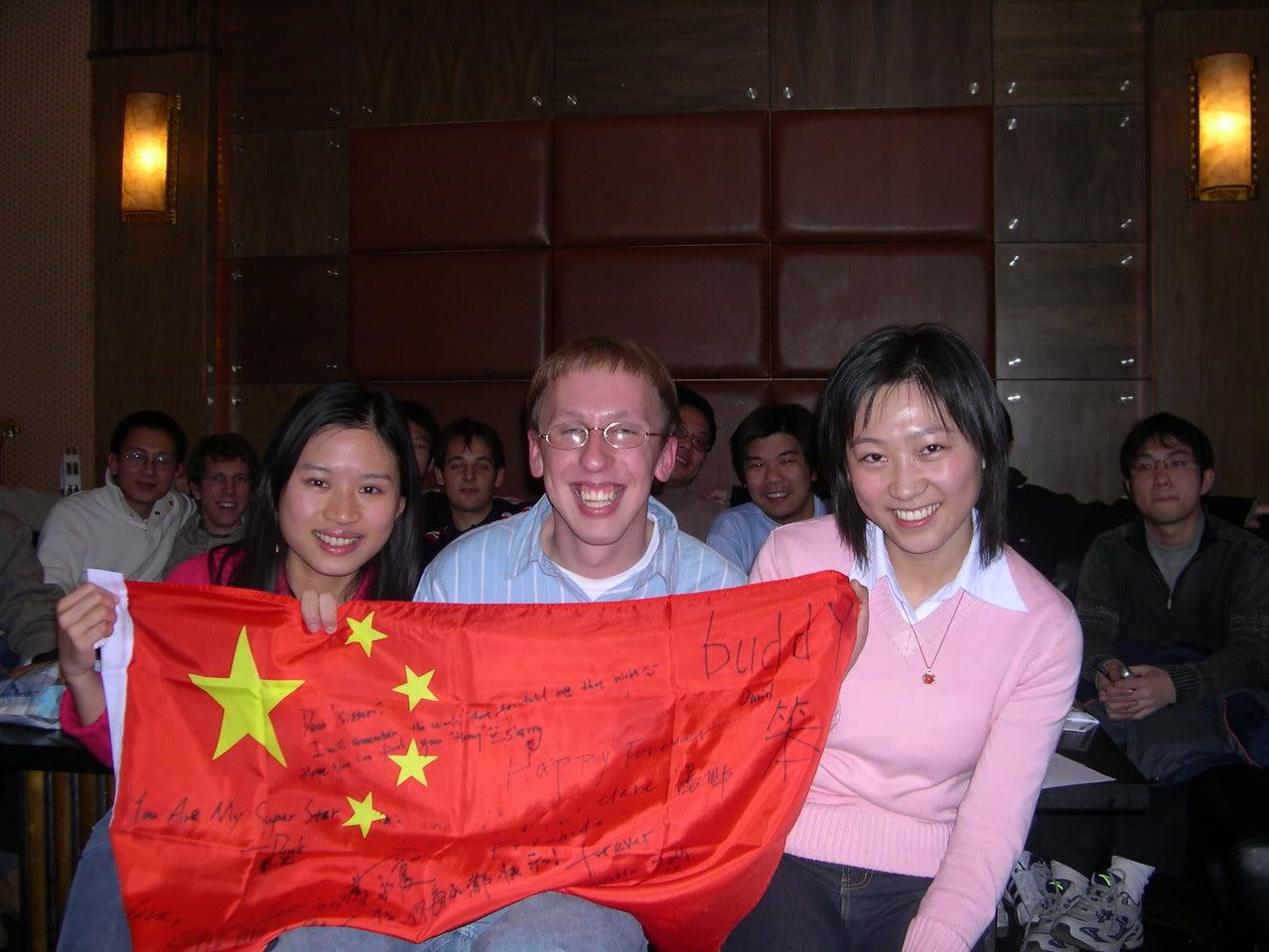 Tuesday, August 31, 2004
I'm leaving in just a couple of hours for Washington DC, en route to Beijing China!
Today is the day I've waited for and looked forward to for nearly six months time. Yet in this moment, on the eve of an adventure I still can't begin to conceptualize in my mind, I find myself eerily calm and at peace with myself and the future. I'm due into Reagan National airport in Washington around 6:30 this afternoon. After staying the night at Carrie's apartment, I'm planning a very early wake up call because I'm catching my international flight on it's first leg at 8:23 a.m. Out of National again. I'm due in Chicago at 11:05 a.m., in Tokoyo Japan on September 2nd at 2 p.m. local, and finally due to arrive in Beijing China at 8:05 p.m. That's 5:05 a.m. Eastern Standard Time. What more do I have to say? If there is one thing I seek to accomplish on this trip, it's personal growth. Everything else will be iciing on the cake of my life. I don't expect it to be smooth sailing. But I do hope that when I return to Scranton on December 17th I'm a stronger, broader, smarter, kinder, more enlightened individual then the one who departed nearly four months earlier. To all my dear friends and family members, take care of yourselves. I shall endeavor to do the same. The opportunity I've been presented with, to study the semester at Peking University, ("The Harvard of the East", China's oldest University) is one I could have never imagined for myself just a year or two ago. I'm a blessed individual, and I'm determined to take advantage of every opportunity I receive to expand and explore. To challenge myself. Until then, Zaijian!
Friday, August 27, 2004
It was with a heavy heart that I said goodbye to the Bellevue Center today.
What a scene. With Natalie involved, I shouldn't have been surprised. First we had a "party" in celebration of moi, involving cupcakes for the kids. Then Natalie and the kids gave me this envelope full of good luck cards they made. What a super awesome and kind gift. "I hope you have a safe trip", "I'll miss you Mr. Steve", and "I love you" were in plentiful supply on the artwork. Natalie made me a wonderful little card, where she told me to "keep in touch so I can keep track of you. Playa's like you can end up anywhere!" haha. So fast forward an hour, and it came time to say goodbye. It was a mad rush, as somewhere between ten and twenty kids all jumped up, running at the same time to give me a hug goodbye. It took a good fifteen minutes to say farewell, and I fought back tears again and again as the kids said again and again they didn't want me to leave. When little Caleb tried to block me with his arms as I was kneeling down, saying "I'm not going to let you go." These kids were heart breakingly sweet, and the tears were about to flood on out as I finally stepped out the door. As I walked up the steps outside, Natalie told me to wait there a minute. She returned a minute later, outside with the group, to serenade me off with "Leaving on a Jetplane" by Sinatra. Oh man. It was so touching, and the kids such a mixture of cute and forlorn, I wished I could take them all with me to China. Unfortunately, all good things must come to an end. I'll miss all my pals. I love ya, and I wish you all a very bright future!
It's unfortunate how the mind operates sometimes. I often looked at my watch at work, especially the last week, as the minutes ticked away until I'd be done. I loved my job, and the kids, but I found it increasingly difficult to live in the moment. But like I've said here before, it is those moments with the kids that I'll cherish for a long time. Giving Caleb a hug when he was hit by a dodgeball. Playing blocks with Gavin. Joking around with Michael, making that funny face I did almost everyday and going "durrhhh" when I was feeling goofy. Pretending to eat the plastic food Vicki would serve to me and Natalie. There is so much love when your surrounded my children. Everything is more intense. The arguments kids have with one another, the hurt feelings. But also, their capacity to care. Their capacity to grow. And their capacity to find happiness in the simplest of life's moments. That is something that most of us shed as the years pile on top of us. And it is something we should all cherish forever. To Caleb, Michael, Vicki, Danny, Emily, Gavin, Justin and everybody else: I'll never forget you. Though the memories may eventually seep, subliminally, into the subconscious. Though one day I may not remember that particular game of dodgeball, or that certain field trip to the McDade Park pool. Though all that may come to pass, I'll never forget the laughter together. I'll never forget the warmth, the smiles, the hugs, or the reminder. Children are truly a gift from God. With four days to go before the adventure of my lifetime, I'll close with the short poem Natalie included in my card.
The stars above us guide us to whereever our dreams may roam. But no matter how many miles are between us, our hearts will lead us home. True friends are hard to come by: and leave lasting impressions on our mind. You will always be cherished because friends like you are hard to find.
Saturday, August 21, 2004
Only ten days today until I leave for Beijing China! Let the official countdown begin.
On Monday me and James hung out together for the night. We decided to drive up to Twin Pines Restaurant and truck stop: the always classy country joint me and James have been to a few times before. It was fun to talk with James again, pretty much about everything and anything that came to our minds. I will never forget those moments we drove around singing. That night, "How Many Licks" by Missy Elliot and "Moving Out" by Billy Joel. haha. James has a way of making even the most mundane of trips into a fun and exciting time out. Then on Wednesday me and Steph got to spend some time together. We got stuck going to her brother's football game, with Zach no less, but it turned out to be a good time after all. Plus I got to throw in plenty of sex jokes while yours truly third wheel and they got some pizza at Fratelli's. So anyway, I went shopping up at Wal Mart today with my mom and bought a bunch of stuff needed for the coming semester, including a new backback and a pair of binoculars. There is very little left to complete before I'm ready to leave now. I still must go shopping for some new clothes. I've got to sign some papers granting power power of attorney to my mother while I'm away. I want to practice a couple Mandorin phrases from my language book before departure. And, of course, I have one more forty hour week at the day care center before I leave. But after all that, I'm cleared for a literally unimaginable adventure. One which, in my mind, remains unfettered by expectations or preconceptions. I'm to take a leap into this -- the great unknown.
Walking home from work the other day, I discovered a "message in a bottle" of sorts. Two folded up notes, left by an unknown person -- seemingly, left to be found. Here is what was said.
Listen up dude - If Bush gets re-elected just remember its 4 MORE YEARS of fighting and dying in Iraq dude - Is that what you want? -- How long is this undeclared war going to go on? THe U.S. couldn't win in Vietnam -- giving up in April 1975 and pulling out all troops -- 55,000 GI's died -- I was in Nam and I killed too. Too many I blew away, stabbed with my trusty knife, hammered with my rifle butt on their forehead -- I was in Nam both in 1968, 69-70 -- I can still hear them screaming even now as I walk around town thinking about it. We need to get out of this war thing, and fast.
Something to keep in mind as the total number of U.S. casualities mout to more than a thousand in Iraq. And as a president who never served his country attacks a presidential candidate who volunteered for duty in the line of fire. It makes me furious, this so called "scandal" surrounding partisan Bush hacks trying to discredit the serverity or accuracy of Kerry's war wounds. Bush fucking joined the Texas National Air Guard, and then went AWOL (or at least "unaccounted for") for several months. Why is this even
a debate
in the so called liberal media? Kerry will be our next President. Then we'll have a leader who works to unite us all, instead of a coward who drags war heros through the dirt for partisan gain. Anyway, enough of that. I finished
Rivertown
today. It was an extremely well written book that transported me along for an amazing two years in Fuling. In the most personal of ways it examined politics, family, spirtuality, and modernization in a city caught between the past -- and a fast approaching future. Much like the country writ large. Perhaps Walt Whitman, in Leaves of Grass, says it best. I'll let him have the last word.
I have heard what the talkers were talking, the talk of the beginning, and the end. But I do not talk of the beginning or the end. There was never any more inception than there is now. Nor any more youth or age than there is now. And there will never be any more perfection than there is now. Nor any more heaven or hell than there is now.
Saturday, August 14, 2004
It's been a week full of work and friends, as I count down to Beijing China.
I can't believe two weeks Tuesday I'll be leaving to study on the other side of the planet! I'm beginning to feel the thrill of a great coming unknown, and I've begun final preparations for the three and a half months I'll be out of the country. I just finished reading
Culture Shock: A Guide to Customs and Etiquette in China.
Right before this, I read
The Illustrated World's Religions: A Guide to our Wisdom Traditions
. And tomorrow I'm starting
River Town
, an autobiographical novel about a Peace Core volunteer's life in the small city of Fuling, adjacent the Yangtze River. Still on my list of "to do's" -- the purchasing of a phone card, binoculars, traveler's checks, and most importantly: booking a hotel room for the trip I'm planning with some friends to NYC for New Year's. My mind has been occupied non-stop this past week, dreaming of the journey ahead, working forty fun and frazzled hours, and heading out on the town with my friends. On Tuesday me, Mike, Sarah, Joe and a few others headed to Pam's Aunt's house to hang out. We ended up watching the classic "Porky's" and a good time was had by all. Although driving back we got lost in the thickest fog I've ever seen in my life. Then Wednesday me and my mom went to see Maroon Five and John Mayer in concert up at Montage. Instead of the second to last row (like last year) we actually had good seats. I also got an awesome JM hat, which I've been wearing with just enough of a right angling to optimize my bad ass coolness. ha. On Thursday me, Mike and Sarah went to the movies downtown and saw
Collateral,
a pretty decent murder drama. To cap off the work week a bunch of us: Sarah, Mike, Joe, Lynn and her new hot boyfriend got some pizza. Then we all headed up to Jitty Joe's for ice cream, where James joined up with us. I had a good time, laughing and talking with everyone. Joe even bought me a small cup of ice cream because I was short on cash! Don't worry Joe, I'll pay you back. *wink* haha. Kidding of course. Forty hours makes for a looooong work week. But I have such a great time with the kids, and with Natalie, that the time flies. Not only that, but me and Natalie have figured out why kids aren't listening. We're feeding them! Lunch, and later in the day, snack. What were we thinking? That only gives them more energy to run around. haha. I told her, Ms. Hannigan had
her
kids polishing the floors "like the roof of the Chrysler building" while singing! We can do better. In all seriousness, I love the kids. I'm very glad to have the opportunity to work here.
I was thinking of opening this post with some of the thoughts that have been wandering through my mind this summer, but then I found out the Buddha was (
once again
) way ahead of me on this one. And since I am shortly heading to the Orient, here they are.
Do not dwell in the past, do not dream of the future, concentrate the mind on the present moment.
This Buddha quote strikes at the heart of a nightly prayer of mine, "Lord, help me to live fully in each moment." If there is one way in which I've changed since graduation, it is in this teaching's urging. I used to live in the distant, non-existent past with Andy, and sometimes, in the glorious future just around the corner. Now, even in these moments so close to an awesome new adventure, I remind myself that the only moment we have for sure is the present. We must make the best of it. After stumbling upon
this
wonderful repository of Buddha I thought, for a moment, I'd reached personal nirvana. I couldn't more fully agree with the philosophy underlying Buddha's words of wisdom. Luke called me the other day, I'm always so happy to hear from him, and it stood again in such stark contrast to my year's of "friendship" with Andy. Forgiveness is the ultimate revenge, but no matter how hard I try, I have yet to find a way to let go of that resentment. Apathy towards him is the next best thing. Something, by and large, I've been able to achieve. I'm about to cut him off for the thousandth time, after he agreed to send me a few childhood pictures, and then never did. Perhaps I should keep in mind the words of a sage, recognized by more than a billion people as god's messanger.
An insincere and evil friend is more to be feared than a wild beast; a wild beast may wound your body, but an evil friend will wound your mind.
I love myself far too much to ever let such a person get close to me again.
Editor's Afterthought:
This memo, from my employer, says it all.
Enclosed with this memo is a notice from the Fiscal Office regarding a rate increase in the premiums for First Priority Medical Insurance. This new rate represents a 25% increase over the last year's budget. -- We have explored other options, but each represented at least a 10% reduction in premiums with corresponding increase in co-pays and decreases in coverage. I am sorry to have to deliver this news. I know how difficult it is for many of you to make ends meet as it is. Please be assured that we have done everything we can to negotiate a lower rate. This is one more example of the strains being felt by working families in communities across this country. Please be sure to make your voice heard loud and clear on Election Day. If you are not registered to vote we will have registration forms in all our centers in the next few weeks. Please be sure to register and vote.
I couldn't have said it better. My heart goes out to all these families. I see the moms and dads come in to pick up their kids: a nurse, a Krispy Creme employee, a construction worker. We've "turned the corner," or so Bush claims. We have not. Our President doesn't give a shit about these families, and as the Congressional Budget Office's recent report reminded us, the tax burden has actually gone
up
on the lower and middle class. While the rich get richer. We can build a brighter tomorrow,
together
.
Saturday, August 07, 2004
I'm thirsty.
Hi thirsty, nice to meet you. My name's Thomas. haha.
That's what one of the kids at Camp St. Andrews said to me. After saying I was really thirsty. Camp ended yesterday, and I was sad to say goodbye to all the kids for yet
another year
. After five awesome weeks full of hugs, laughs, and yes -- more than the occassional fight. I had to deal with kids throwing up, kids bleeding because of fights with one another, and even unauthorized bowel movements in the forest! haha. It's only funny in hindsight, trust me. Still, its those quirky, sublime little momements which made the experience come alive. And which make me wish coming back next year was much more likely then it is today. Village 2b may never have won the spirit stick -- but we did win first place in the Olympic Spoon Races! Take that Village 2 at large. Everyone was so excited after the big win, we might as well have won the real Olympics. Even I couldn't wipe the smile from my face for a good fifteen minutes. Camp St. Andrew is how I'd like going home to feel. It's not a perfect place, but there's a warm feeling that washes over your heart when you get off that bus. Where you know, despite strife, your cared about. There's a sign, hanging on the caf's wall, that nicely sums up this spirit of Camp St. Andrew.
No love, no friendship, can ever cross the path of our destiny without leaving some mark upon it forever.
Wednesday was the overnight for campers of the week. Nobody in my group was old enough to sleep over, but Josh, my favorite kid from last year - was picked by his group's counselor. And while not quite as fun as last year's overnight, this year was still a blast. Since I wasn't assigned to be a cabin counselor, I had to serve dinner! Lunch lady I am not, but it wasn't that bad a time. Then me and Josh got to eat some dinner, plan out a skit with the rest of the group, and head to the camp fire to hear the story of Camp St. Andrew and Casey Hall. A real life ghooooooost stooooory. Five minutes into Margaret's telling it starting raining.
Wonderful
, I thought. Still, we got to roast smores around the campfire, and let me tell you, that was
the
hottest one I've ever experienced. My arm nearly melted off, from three feet away! Then we all took a walk down to the Lake, where the ghost of Casey is supposed to linger by the boat she drowned in. Oooooooo. Josh was a little scared as we made our way back up to the cabins. Thomas, the kid I mentioned at the beginning, is one smart cookie. He's a fan of Jeopardy and history, at age 8!, so I gave him a few questions. He knew that Franklin D. Roosevelt was President during WWII and who the last three Presidents were. Most adults don't know that much! haha. I was impressed. So Friday I took Josh's bus home, as I promised him, and got Jill to give me a ride back home. I told Josh if he ever needed anything, I was there for him, and gave him my number. We hugged, and as I left, he started to cry. I felt sad that we couldn't hang out more. Josh is the younger brother I never had. He's the family member I wish I had. I want to protect and be there for him, I want to help him out when he's in need. Josh buddy, I wish you the world. You're a great kid. Take care, and always reach for the stars.
Saturday, July 31, 2004
I haven't been this stoked about election 2004 since Howard Dean dropped out.
Last weekend me and my friend Brad caught a free bus up to Boston Massachusetts for the Democratic
Grassroots Action Institute and Network
training -- in conjunction with the Democratic National Convention. And while I didn't actually make it onto the convention floor, like my friend Brad did the day after I left I might add(!), I still had a politically charged good time. We had a good variety of speakers I thought: from the always colorful Al Sharpton, to New Mexico Governor Bill Richardson, former Dean campaign manager Joe Trippi, and passionate progressive Ariana Huffington. This trip seemed to take place in another dimension though. First of all, the hotel we were staying at was located in
Braintree
MA. For those of you with maps in front of you, that's the last stop for the T train, wayyyy south of the city (about 15 miles). Secondly, Brad's weird friend (whose name I can't even recall) added a surreal "what in the hell am I doing here" aspect to this last minute trip. haha. I'm not saying I didn't have a good time - I'm just saying that thought crossed my mind on several occassions as the bizzareness of the weekend wore on. Maybe I should start at the beginning.
The bus arrived in Scranton around nine o'clock at night last Friday. Now, I
knew
that meant a late arrival. I decided to take a nap on the bus -- and its a good thing I did -- because the bus ended up getting lost. Dropping us off in downtown Boston around 4 in the morning. That sort of directionless, "where am I, and what am I doing here" feeling lingered until my Greyhound bus left the Boston transit terminal. On full day numero dos we went to the much hyped Democratic bash at the Avalon nightclub, directly behind Red Sox stadium. And like the quirky person I am, I had much more fun walking down that street -- checking out the street evangelist, the hot dog and clothing venders, the long line of ardent Sox fans in full fanware, and the various political causes hocking their wares -- then I did waiting in line three hours for a dance floor I wouldn't brave without Mr. Liquor and more than one friend. The hightlight of the trip was running into our former (and wonderful I might add) president Bill Clinton at the tale end of a Border's book signing. I got to shake his hand, as I did once before many years ago when he came to Scranton, and got one solid shot of him with my camera. There is an electric energy that you could just feel eminating from that man - a real leader who brought peace and prosperity to this country in his eight years in office. The bus ride back home, after exchanging about a 15 second hug with a very affectionate Brad (hey, he's hot, I'm not complaining!), was the most relaxed Greyhound journey I've had in awhile. The bus actually got me back home
early
.
So here I am, pumped up about Kerry Edwards, when I hear they've chosen Scranton as their tour's first "Believe in America" stop. After some wrestling with camp, I got off this past Friday, and headed downtown with Mike to show my support for the next president and vice-president of the United States. It was worth waiting five hours to hear, direct from their mouths, that "hope is on the way." Right now I'm reading Lies and the Lying Liars Who Tell Them: A Fair and Balanced Look at the Right, and I must say, I'm pumped up about this election like I haven't been in awhile. The contrasts are as stark as ever. On one side, a war the American people were lied to about, 1,000 dead U.S. soldiers, a faltering economy with high unemployment, and a President who's willing to use the U.S. Constitution to divide America and pump up gay bashers to GOTV in his party. Not to mention the fact our brave leader ducked military service by enlisting with Texas National Air Guard. On the other side is a Vietnam war hero who volunteered for service to this country, a man of integrity and hope who wants to end the two america's that exist today and bring economic opportunity to us all, someone who wants to repeal tax cuts for the wealthiest one percent and use that money to make healthcare a right, and not a privilege, in this wealthiest of countries. A man who says a brighter future for America, for us all, isn't just a dream. This election is extremely important folks. I've already requested my ballot be mailed to China, where I'll proudly cast my vote. For a stronger America, at home and abroad, vote
John Kerry
for President. So after getting some supper with Mike on Friday, we ended up having an interesting conversation about me being gay. Had I really known for a long time? Yes, around age 12 or 13. Did I consider homosexuality unnatural? No, in that there has always
naturally
been a homosexual minority on this planet. And the last one, which really made me think, did I consider being gay a handicap? I had to pause. It is a cultural handicap, no doubt, what will all the discrimination you have to live with. But, in a deeper sense, the handicap still exists. I'll never be able to have children of my own, forged through the genetic bonds of intimacy with another. I consider this a minor disadvantage however. One day I plan on adopting a child, or children, of my own. And when they ask me about what makes a family I'm going to answer with a response that will make those right wing bigots scream: "love makes a family." Especially through adoption. Any guy can knock up a women. But creating a family, against social pressures and genetic expectations through unconditional
love and selflessness,
means you're father loves you in a way deeper than words can describe. Father -- just reading that word back leaves a bitter taste in my mouth. As my father felt toward his. I'm determined to brake this chain. I will have my ever after.
Editor's Afterthought:
"Declare Your Gullibility" and vote
Ralph Nader
for President!
Content and layout
Copyright 2002-2005
Steven Bielinski
All rights reserved
Unauthorized use is a violation of
U.S. and international copyright law
"I must take issue with the term 'a mere child,' for it has been my invariable experience that the company of a mere child is
infinitely preferable to that of a mere adult."
-- Fran Lebowitz
Donnie Darko
** 1/2
Road to Perdition
***
Clue
** 1/2
The Order
* 1/2